ACCESSORIES
Brush holder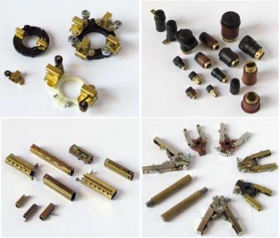 To meet the demands of our clients we offer a wide range of brush holders made ​​of plastic and brass, brass tubular ducts, plastic molded according to specific customer design.

The brush holders most used are divided into 3 categories:
1 - tubular brush holder complete with caps
2 - Arms brush holder, suitable for the slip rings
3 - Collar brush holder with 2 or 4 poles, with its drawers and springs

Features:
- Flexibility of production,
- Wide range of brush holders, metal inserts, molded plastic,
- Full supply of springs, brushes and accessories,
- Products optimized for the fields and electric motors and Motion Control Technology.
Magnetic detection instruments
REALLY USEFUL
The increasingly more professional use of magnets and magnetic systems in many fields of application has brought about the need to measure magnets to avoid making mistakes during the assembly process. It is necessary to avoid inverting the poles or installing the magnet on its non-magnetised side. Furthermore, these instruments allow to check that the magnet has the desired magnetic properties.
The UTILE PER DAVVERO (REALLY USEFUL) line consists of instruments that can detect magnetic polarity, the intensity of distribution of magnetic fields and the flux density in Gauss or mT (1 mT = 10 Gauss). These instruments are not only portable but also professional. They make it possible to carry out readings in various environments without having to rely on a laboratory.
Reduced size, lightweight, precision, reliability and easy-to-handle are all features that truly make these instruments really useful!
Ideal for measuring the magnetic properties of materials, checking the quality of assembled magnetic products, measuring the magnetic field generated by a rotor, measuring and displaying the magnetic field of magnetic equipment, evaluating the polarity of a magnet.
High Quality Ball Bearings and Roller Bearings
Roller- line is a range of Ball Bearings and Roller Bearings, metrical and in inches.
Roller-line Bearings can be classified in: miniature, of small, medium and large sizes, from 4 mm to 200 mm of diameter.
Noise & Vibration
During the production and quality control process, the noise and the vibration of the bearings are strictly controlled. Thanks to the BVT-1 machine, noise and vibration are classified in five categories: V, V1, V2, V3 e V4. The best Vibration tolerance is achieved by the V4 Bearings, which reach 12 µm/s on a 8 mm's bore (Bearing 608) per technologically advanced applications.
Bearings' Tollerance
According with the size's tolerance and the rolling precision, the Roller-line ball bearings are divided in categories from ABEC-1 to ABEC7.
ABEC-1 is the standard grade, ABEC-3 is a little higher, ABEC-5 more higher: at last ABEC-7 is the highest grade.
Bearings' Internal Tolerance
Bearings' internal tolerance is the total distance in which a sphere can move, compared to the others, in radial direction (internal radial tolerance), o in axial direction (internal axial tolerance). The tolerance is classified in C2 (standard), C3, C4, C5.
Grease
The grease used for our bearings belongs to high quality brands such as: KYODO YUSHI Multitemp, SHELL, KLUBER, EXXON MOBIL, CHEVRON, DUPONT.
Download the grease characteristics profile>>

Grease Brands and Proprieties_
[1.299 Kb]
Certificate product