cage technology
Cage technology: reduce commutator unbalance !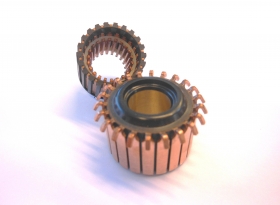 FEATURES:
Thanks to "CAGE" technology RD EUROPE GROUP is able to realize commutators with important advantages compared to classic production procedure.
ADVANTAGES:
CAGE technology, involves a substantial reduction of the unbalance, consequently increases life of your appliance.
Other advantages due to this technology are:
lower consumption of brushes,
lower consumption of copper, since the individual blades are inserted one by one into the commutator,
lower air gap between the blades, that are not milled.

Cage technology: less unbalance
[1.841 Kb]