News
NEODYMIUM AND FERRITE RING MAGNETS HALBACH MAGNETIZED
Cage technology: reduce commutator unbalance !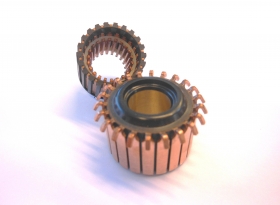 FEATURES:
Thanks to "CAGE" technology RD EUROPE GROUP is able to realize commutators with important advantages compared to classic production procedure.
ADVANTAGES:
CAGE technology, involves a substantial reduction of the unbalance, consequently increases life of your appliance.
Other advantages due to this technology are:
lower consumption of brushes,
lower consumption of copper, since the individual blades are inserted one by one into the commutator,
lower air gap between the blades, that are not milled.

Cage technology: less unbalance
[1.841 Kb]
Bonded Plasto-Neodymium TOP QUALITY with BR up to 13500 Gauss
From today RD EUROPE GROUP is able to produce bonded plasto-neodymium TOP QUALITY, the high performance plasto-neodymium !
Bonded plasto-neodymium TOP QUALITY is the perfect solution for brushless motors and step motors with multipole rotor.
It has the same quality and performance of the sintered neodymium.
It is perfect for multipole radial rings up to 1.35 T residual induction.
The amount of dysprosium is lower than sintered neodymium.
Plastic mold.
Complete rotor shaft.
Discover the technical sheet of this amazing news >>

bonded plasto-neodymium top quality
[323 Kb]

Dy free magnet GB
[722 Kb]
Sintered Neodymium Rings
Today, RD EUROPE GROUP is able to produce:
SINTERED NEODYMIUM RINGS
with radial multipole magnetization
or oblique multipole magnetization

on the diameter

from 4 to 24 radial poles.
Read more >>

radially oriented neodymium magnets
[831 Kb]
Ferrite ring magnet Halbach magnetization
Thanks to Halbach magnetization you can have no magnetic field on the bore, but also on the external diameter according to your applications.