News
Cage technology to improve the life of the electric motor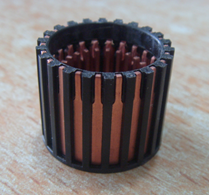 For over 20 years, RD Europe Group has been designing and manufacturing customized commutators with cage technology to reduce copper waste, improve commutator displacement at high speeds and brush life. We guarantee speed tests at 40,000 RPM 180°C with bar deflection <= 0.005 mm and insulation test 300V 50Hz bar-bar, 3000V 50Hz bar-shaft. RD Europe Group develops over 100 new products every year made with 0.03% CuAg and 0.08% CuAg materials and UL certified quality resins. If you want to improve your products in terms of efficiency and reduce production costs, ask for a quote for your new collector with high-performance cage technology and extend the life of your electric motor. Quality without compromise for the excellence of your motor. Contact us directly info@rdeuropegroup.com
The UL / CSA commutator for power tool motor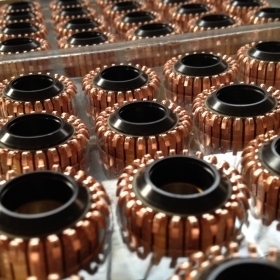 RD Europe Group has developed, in collaboration with a manufacturer of grinders, a commutator equipped with a special copper hook to improve the performance of power tool motors, ensuring an insulation class compatible with the UL / CSA standards of the same engine. The special copper hook has been designed to be able to wind copper wire with a larger section up to 1.25 mm, and to improve and conform the welding of the hook on automatic lines. Even the class H resin has been designed to comply with the UL / CSA insulation class required by the American market, much more restrictive than the European: then the bar/bar insulation is obtained by a special mica produced by SUMITOMO Japan.
Do you need a particular component for your motor? Find out how to design it together with RD Europe.
Hook commutator for opening and closing systems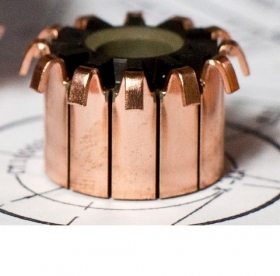 RD Europe Group has been contacted by a leading manufacturer of DC motors in the automation sector to create a customized solution for which we have developed a custom commutator 12 hooks diameter 23 mm, length 17 mm, bore 7.95 mm for improving the life of the commutator and therefore of the electric motor.
For this project we made the first 100,000 commutators with 0.03% silver copper, minimum hardness 95-105 HBV, UL certified resin, 500V bar / bar insulation and 1500V bar / mass guaranteed with 22000 RPM speed test. The commutator made by RD Europe perfectly meets the customer's needs: it is eco-sustainable because without asbestos, it is guaranteed in terms of sturdiness, reliability and durability. Thanks to our solution, it was possible to improve the life of its electric motor because it does not suffer the sudden changes in voltage that may be present on the network, recording a considerable reduction in short circuits.
Another innovation named RD Europe.
Contact us to improve your motors thanks to the design of custom-made commutators for your specific needs!
Micro commutators for drive motors shell-type with air mica undercut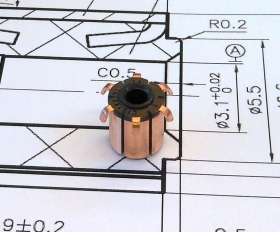 For a new collaboration with a large German manufacturer of electric motors, RD Europe Group has designed a special micro-sized commutator responding to specific requests of specific characteristics. Our team has studied the needs and designed a tailor-made 6 hooks with a diameter of 8.1 mm, 10 mm long with a 3.1 mm bore in shell-type technology and air mica undercut. In addition to special measures, the collector had to ensure specific materials using 0.08% silver copper with hardness above 95 HB and bars with a minimum tensile strength of 50N. RD Europe Group has solved all the requests, launching the production of a commutator with a copper hardness of 105 HB and bars with average tensile strength of 179 N. The micro commutator, a shell model made of phenolic resin without asbestos but with fiber glass and mineral material, passes the bar-bar test at 250V 50 Hz for 1 minute and blade-shaft test at 2000V 50 Hz for one minute.
RD Europe Group designs and manufactures commutators for every need, from miniaturized to those bigger for heavy industry.
Contact us for information on our service!
Cage technology: reduce commutator unbalance !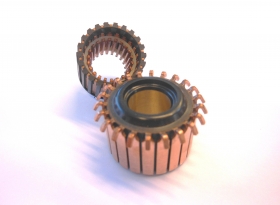 FEATURES:
Thanks to "CAGE" technology RD EUROPE GROUP is able to realize commutators with important advantages compared to classic production procedure.
ADVANTAGES:
CAGE technology, involves a substantial reduction of the unbalance, consequently increases life of your appliance.
Other advantages due to this technology are:
lower consumption of brushes,
lower consumption of copper, since the individual blades are inserted one by one into the commutator,
lower air gap between the blades, that are not milled.

Cage technology: less unbalance
[1.841 Kb]
Commutator for hair-drier: The revolution made in Italy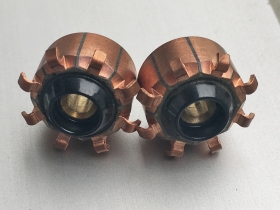 To became independent of the market and improve its main product, an Italian company manufacturer of professional hair-driers met us to re-project, together with their R&D dept., the internal electric commutator. The new commutator must grant a longer brush last (2200 hours of usage), a motor power of 2150 WATT and an air capacity of 80 meters cube/hour, respecting European regulation and American UL/CSA. RD Europe Group so projected a new and solider commutator (with a brass bush instead of resin) and increasing thickness of isolation mica (form 0.3 to 0.5 mm). Commutator, moreover, must respect precise dimensions to be conform to the existing hair-drier model. After some weeks of tests, RD Europe group created an "ad Hoc" solution for customer, brilliantly overpassed commutator's spin test (50.000 rpm at 150 C° of temperature for 2 minutes with a radial movement <= 0.01 mm). Today, RD Europe has produced half million of pieces. Italy is biggest hair-drier producer in the world with over 4 million of pieces per year. On half million is assembled a RD Europe commutator.
Commutator with glass fiber: improve the life of the power tool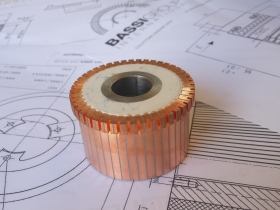 An important German company manufacturer of motors for power tools has involved us in the creation of a new special 32 bars electric commutator, 33.7 mm in diameter and 31 mm long. The type of motor is professional and must guarantee a long life of the brushes, the previous commutator used by the customer included steel reinforcement rings and a mica gasket which created short circuits when the motor was working under stress. RD Europe Group worked on the solution by modifying the phenolic resin in glass-filled resin (long fiber) and replacing the mica rings with fiberglass rings. Glass fiber is a material with superior characteristics from a physical, chemical and mechanical point of view, it is one of the most precious engineering materials available thanks to its versatility. Glass being spun to diameters less than a tenth of a millimeter loses its brittleness to become a material with high mechanical strength and resilience, with better mechanical wear properties and dimensional stability because it is not influenced by external agents. The glass fiber gasket used for this commutator is highly resistant to high temperatures between 180 and 300 ° C with a tensile strength between 800MPA and 1200MPA. In 2019 the motor went into production and over 100,000 power tools were manufactured with this new solution.
Contact the RD Europe Group R&D office to develop your new projects.
Special Commutator for home appliances: the industrial orange juicer case
A Swiss company producer of food services machinery has contacted RD Europe Group to improve performances of industrial orange juicer. The machine, a high level orange juicer, used by big chains of catering, did not reach the manufacturers requested standard. The reason? A commutator not fully suitable. RD Europe Group has studied the old commutator and projected a special model, in order to grant a better performance of electric motor. First of all improving electric rotor endurance thanks to a higher thickness of copper on commutator's bars. Secondly improving material: RD Europe realized the new commutator with a silver-plated copper 0,03% ensuring a better electric commutation and also a longer endurance of brushes. The commutator has overpassed all tests to work at requested features: 37.000 rpm with an inferior bar movement of 0,003 mm. The final commutator is has 24 hooks, a diameter of 28 mm, length 19 mm and a hole of 10 mm. RD Europe Group projects and realizes special commutators. Do you want improve your motor performances? Discover how to innovate, saving money, thanks to RD Europe Group.
Replacement close-out sale: the support of RD Europe for the after-sales service
A Power Tools company involved us to produce 50,000 pieces of a commutator for an engine now out of the business which had to assure after sales service. A big problem for many companies that fail to ensure the required volumes of spare parts. In this case, customer's request was to have 50,000 commutators 24 bars, diameter 30/28 mm with 11 mm bore and 8 brass bushes. A request not particularly complicated for RD Europe, but none of the suppliers end customer had addressed earlier had managed to supply. The commutator had to overpass complex tests (46,000 rpm at 160 degrees for 1 minute with less swing than or equal to 0.015 mm) it was produced, tested and delivered in few weeks.
Spare parts? Ask to RD Europe, the cheapest and fastest solution.
Contact us!
The special commutator for Ski-lift motor
In cooperation with a manufacturer of electric ski-lifts, RD Europe Group designed a special commutator responding to power demands, safety and the specific engine costs. Our team has studied the needs then designed a commutator ad hoc for a very big and very powerful motor. In addition to specific measures, the commutator had to assure a shaft axis height of 180 mm, 195 bars, a crown of 250 mm and a brush length of 85 mm. In a few days our team has solved all the needs, starting the production of a very large commutator to fit the engine of the ski lift, a 2650 rpm system, 1000 Nm of torque with a power consumption of 15000 W. Rd Europe Group designs and manufactures commutators for every need, from miniaturized collectors to those for heavy industry up to 1000 mm in diameter. Contact us for more information about our service!
Too much electricity to commutator? The RD Europe's solution for hydraulic pump
A company manufacturer of motors for industrial forklift hydraulic pumps has recently contacted RD Europe Group to realize a commutator that could solve different existing problem on the vehicle. First of all, battery brought too much electricity to commutator, particularly in case of overload. This means a high stress level for commutator that is subject to wear, and a special maintenance is necessary. Secondly the commutator is subject to thermal stress that wears brushes too. Finally was necessary the improvement of isolation class in H. RD Europe team has worked to find out a solution to improve commutator endurance. Starting from material: we have realized the new commutator in copper, with a percentage of silver 0.08 % comparing with standard 0.03 % Ag. We increased thickness of myca, improving isolation class. To solve the problem of deformation we have worked on phenolic resin and fiber glass rings support, keeping together the 29 commutator's bars, making support lines to reduce deformation. In this way we have improved rotor fluidity. The commutator works with more continuity also in case of electricity stress, granting a better electric pump performance. RD Europe Group listens your needs and realizes evolved commutators for your products.
Hook commutator RD Europe Group: the case history
In collaboration with one of the largest manufacturers of DC motors in Europe, we have realized a hook commutator to improve the power of an electric motor for industrial washer-dryer. The target was to create a hook commutator to speed up the production process by replacing the traditional commutator used in the previous models of the machine. Thanks to the passage to a hook commutator, the client optimized semi-automatic lines winding by an important time (and cost) saving.
Secondly, thanks to the RD Europe commutator, the customer could improve the life of the brushes ensuring a better absorption of current to the motor, even on larger workloads. The commutator Rd Europe has also improved bar/bar insulation, uses a certified UL resin, 0.08% silver copper alloy, and ensures a thermal class H 180 ° C. The commutator realized by RD Europe responds perfectly to the needs of the client and consists of 32 bars, a brush diameter of 43, 5 mm, insulation thickness of 0.65 +/- 0.05. The collector has exceeded the speed test at 18,000 rpm at a temperature of 140 ° C. Another innovation branded RD Europe.
Contact us to improve your products thanks to the design of customized commutators for your needs!
Custom commutators in less than 6 weeks
A leading company manufacturer of industrial floor polishers, has involved us to make a special electrical commutator, designed specifically for a new electric motor, which could improve the power ensuring an improvement compared to the compactness. The cost of the mold is a very heavy voice when it's about projecting a custom commutator. Contacting RD Europe Group, the company has been able to innovate his motor at a much lower cost than what expected because we could adapt a pre-existing mold to the specific requirements of this project. This commutator was a 42 bars, track diameter 46 mm, length 30 mm and bore 18 mm. The motor features: class H, 13,000 RPM, isolation 2000 V bar / bush. For this it's necessary to contact a company specialized in electrical collectors such as RD Europe, a guarantee of reliability and professionalism also in view of the savings. In 2017 the new commutator will be assembled onto a new line of DC motors for industrial polishers, with an estimated potential of 1,500 machines in the launch phase.

Learn more about RD Europe Group.
ELECTRIC COMMUTATOR: FROM DESIGN TO REALIZATION IN ONLY 6 WEEKS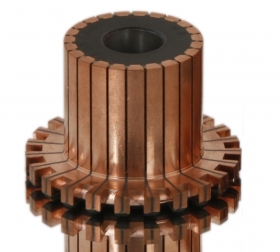 A major Italian company trusted on the reliability of RD Group Europe to overcome a problem of electric commutators availability. The existing provider was no longer able to guarantee an electrical commutator for the machine. It was a 24 bars commutator with a crown diameter of 41 mm and 37.5 mm brush track diameter, bore 15 mm and a length 24 mm for only 3500 pieces. It was not obvious to find someone who could quickly meet the demand for a dedicated collector, with similar amounts and timing under three months. Thanks to the versatility and experience of RD Europe we were able to put produce and delivery these parts within six weeks, letting the customer not losing sales.
Impossible spare parts?
Call us to know how much values the quality for your company.