Dy free Neodymium magnet
Dy FREE Neodymium Magnet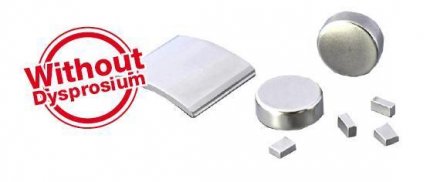 RD EUROPE GROUP today is able to provide neodymium magnets without Dysprosium (Dy) powder.
This grant a better price stability, saw that it does not have the problem of swinging of Dy price.
T Max processing 150°C.
Find out news >>

Dy free magnet GB
[722 Kb]
SWING OF PROCESS FOR MAGNET N44SH STD & DY FREE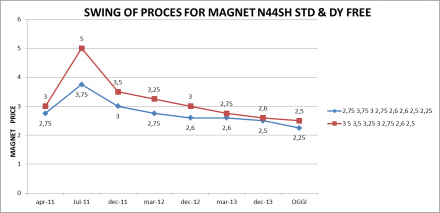 In the graphic, we have represented the fluctuation of the cost, of magnet (in this case N44SH) standard and Dy FREE, among 2011 and today.
There are 2 lines:
RED line: magnet N44SH STD.
Blue line: magnet N44SH DY FREE.
The Dy FREE magnet allows to have a greater stability of the price, in years, because it is not affected by fluctuations of Dysprosium costs.